Ham Radio Repair Service
Servicing all brands of transceivers including Kenwood, Icom, Yeasu, and Alinco plus others.  We also repair tuners, power supplies, amps and whatever other accessories you might need help with around the shack.  We have been doing Ham Radio Repair since 1977, and have built, serviced, and PM'd many of the repeaters in Oregon.  The Land Mobile Radio company I worked for had many sites throughout Oregon and almost everyone of them we had Ham Radio Repeaters on primarily, 70cm's, 2m's, and 6m's.
Test Equipment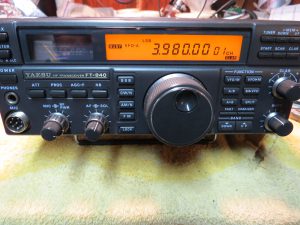 On the right you see the primary equipment used here at the shop.  We also have a service truck with another service monitor plus power meters and assorted equipment for field work.   A computer set up to run JT65 on our repaired radios as well as other services, including programming when needed.  with that being said I will test the repaired radios over the air on several different nets that are accessible here in the Pacific North West such as the Oregon Emergency Net on 80 meters, the Noon Time Net on 40 meters, as well as the Up The Crick Net on 10 meters.  I also burn in the radios for 24 hours.
Yes the service monitor is an older one but it has what is needed when servicing amateur radios, especially HF.  It generates actual ssb signals when evaluating a receiver and it monitors an actual ssb signal and shows the correct modulation characteristics on the crt as well as in the spectrum analyzer.  this is the one I use most often but I do have a much later model that does digital as I do have a couple of customers that have commercial radios.
Please go to our Contact Us page for information on how to contact us and also what we need in order to send you a tracking number for shipping your radio to us.  We have a phone number but we would really like you to contact us via email first.  I am really to busy to discuss anything on the phone.  If we do require more information we will either reply via email or call you by phone.
I do not buy radios and part them out, as a lot of sellers do on eBay.  I will however occasionally purchase a broken radio on eBay, rebuild it and put it back on sale.  I will from time to time have one on this site for sale but it will be ones that I like to use, and likely be only one or two at a time, and for a short time only, then they will go on auction at eBay.