Portable DiPole Antenna
I enjoy camping and setting up a station in places no one else would expect.  Also looking for something that would work as an easy to construct dipole antenna to use in emergencies.  This past Field Day I watched a group of hams try to getting a portable dipole antenna to tune up on a particular band and were having a heck of a time.  I do not believe they ever got it to perform satisfactorily.  Looking at their setup I started looking for the pieces to construct my own version.
Antenna Mount
The mount I decided on is two mirror mounts that can be found at any number of Truck stops and also on eBay.  These particular ones have pl249 receptacles which as you will see in the next two paragraphs will work with banana plugs.
Here you see how I have assembled them so that they will mount on a suitable pole.  Also you can see the coax end with banana plug that plugs into the mounts.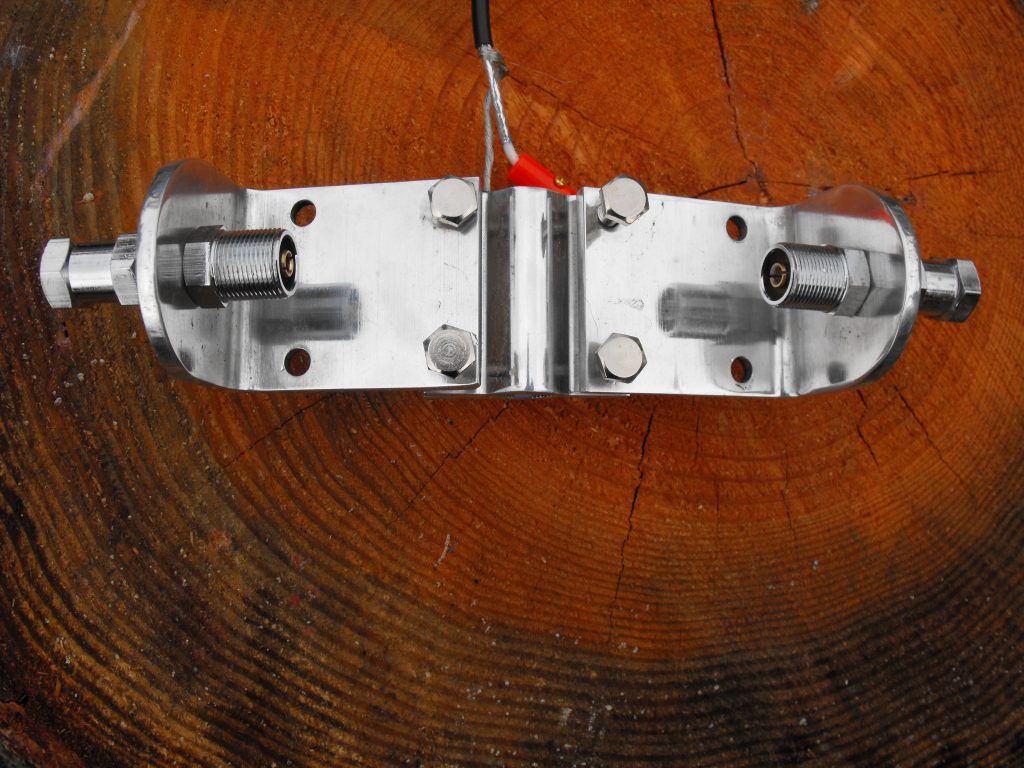 Another look at the assembly and how it will look with both banana plugs.  These work exceptionally well and obviously are not for permanent use.  If you experience rain while using this setup wrap some plastic around the mount and tie it off under the mount with tape to keep it dry.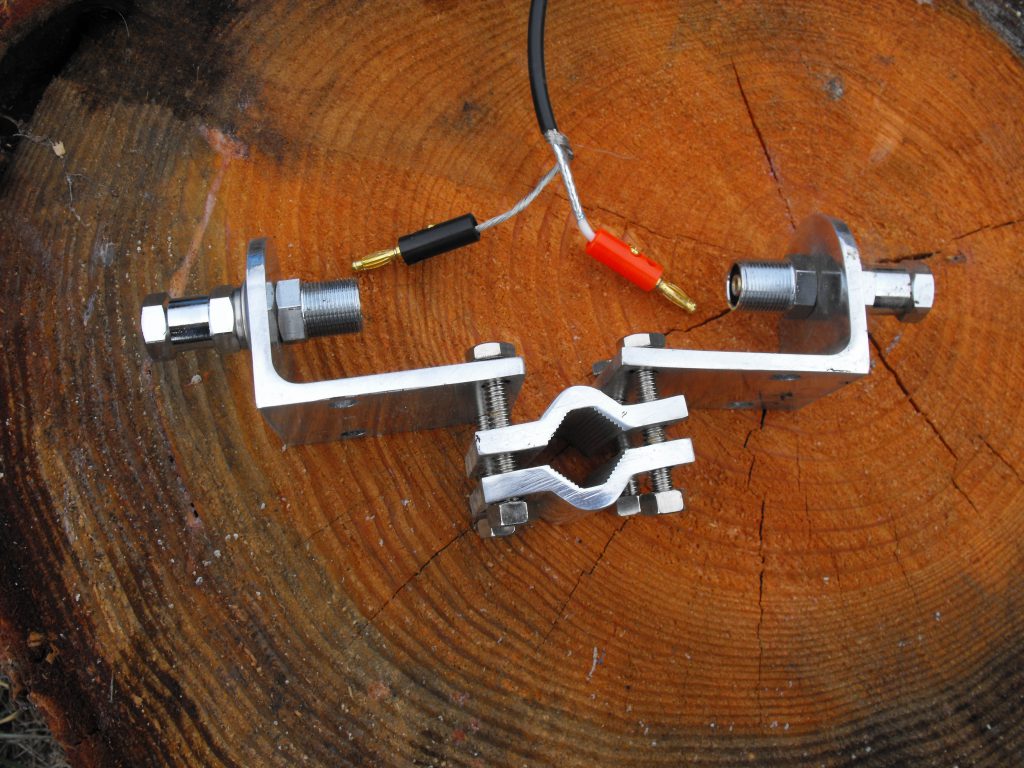 Finished Mount With Coax
Here is the finished mount ready for the antennas with banana plugs inserted.  provides a very clean assembly and easily serviced when needed.  This antenna would work even better with a 1 to 1 balun, and I intend to install one as soon as I construct one suitable for portability.  When the balun is finished I will update this post.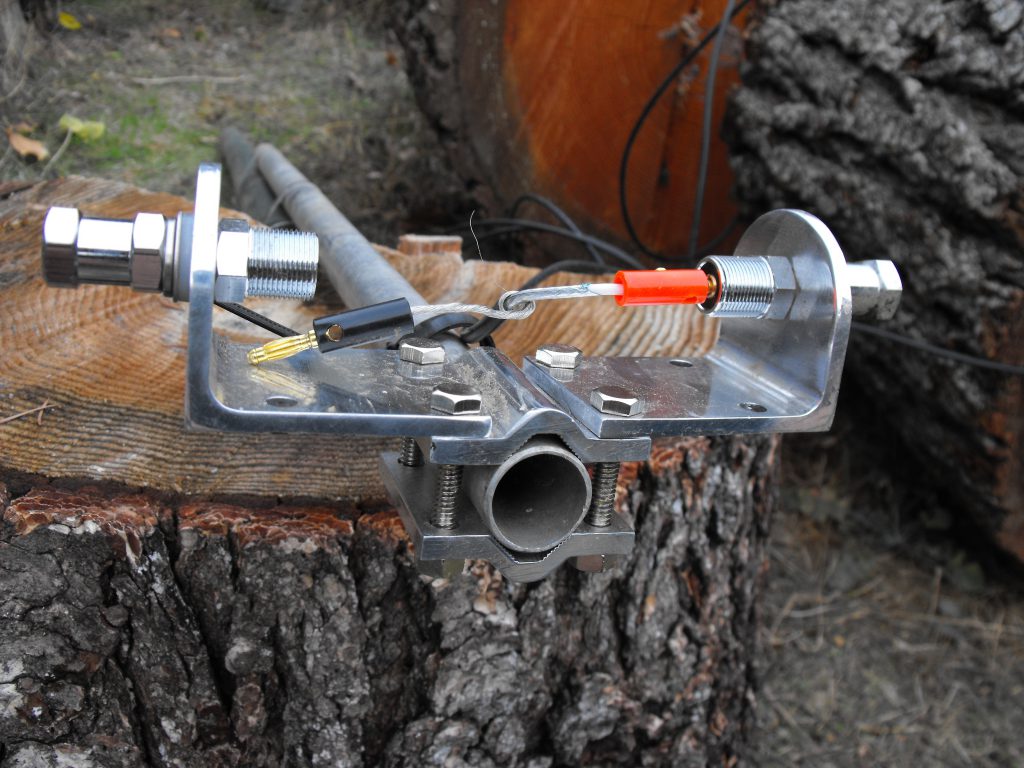 Pole Mount
Please notice that I have added a short length of conduit to mount the antenna on as the military pole is to big for the particular mount I used.  The conduit is mounted to the pole using pipe clamps and is strong enough to withstand most winds short of a tornado.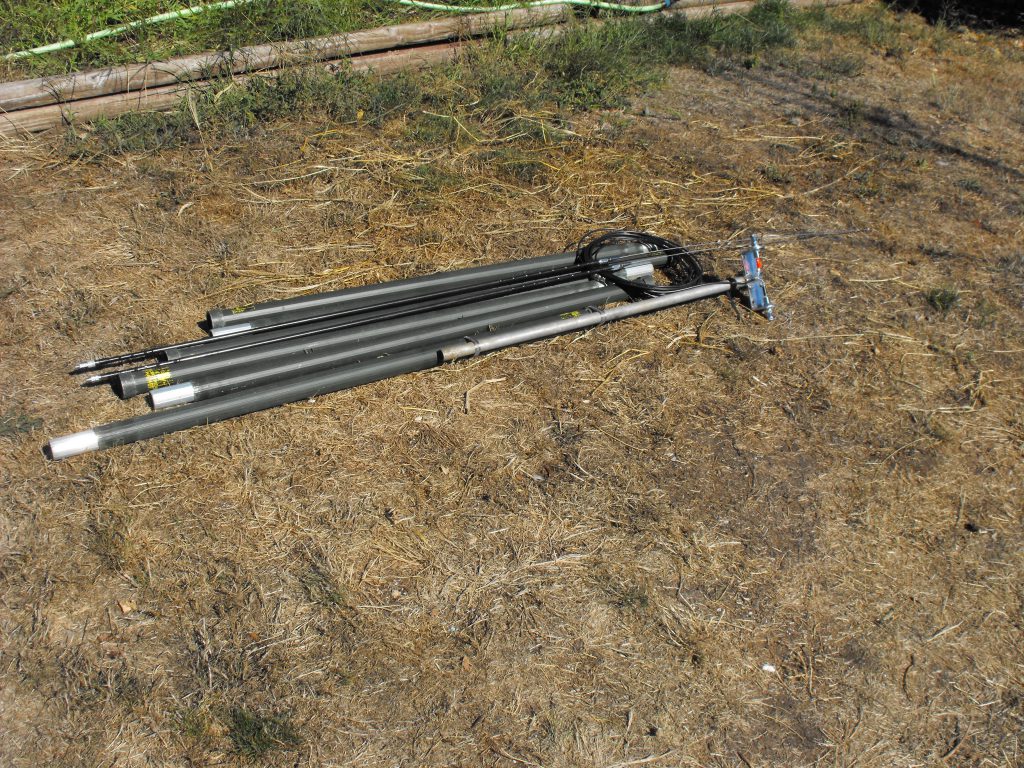 The pole I chose was from an army surplus store that comes in a bag of 10 sections that are four feet long.  They are aluminum and come with a foot that the sections can set into and erect to as high as 40 feet.  you will need some guys, I used paracord but anything would work as long as it was strong enough to withstand normal weather, or worse.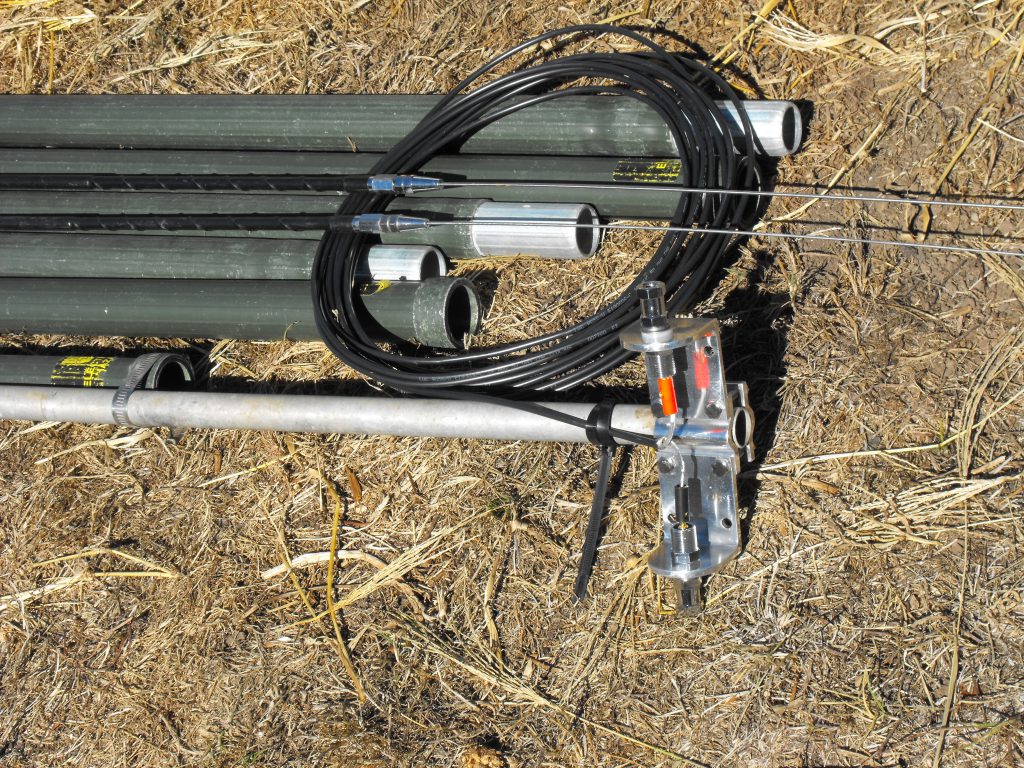 Finished Antenna
I used RG58 coax mostly for easy portability again.  The two antennas are MFJ-1675 hf stick antennas.  In order to tune these antennas I mounted them on a flat bed trailer using a standard 3/8-24 mount, the same ones on the antenna.  I tuned each one seperately for 3900 mHz.  The coax mounted on the antenna is approximately 32 feet long, length not being critacle.  After erecting the antenna I found that the tuning was spot on at 3900 mHz.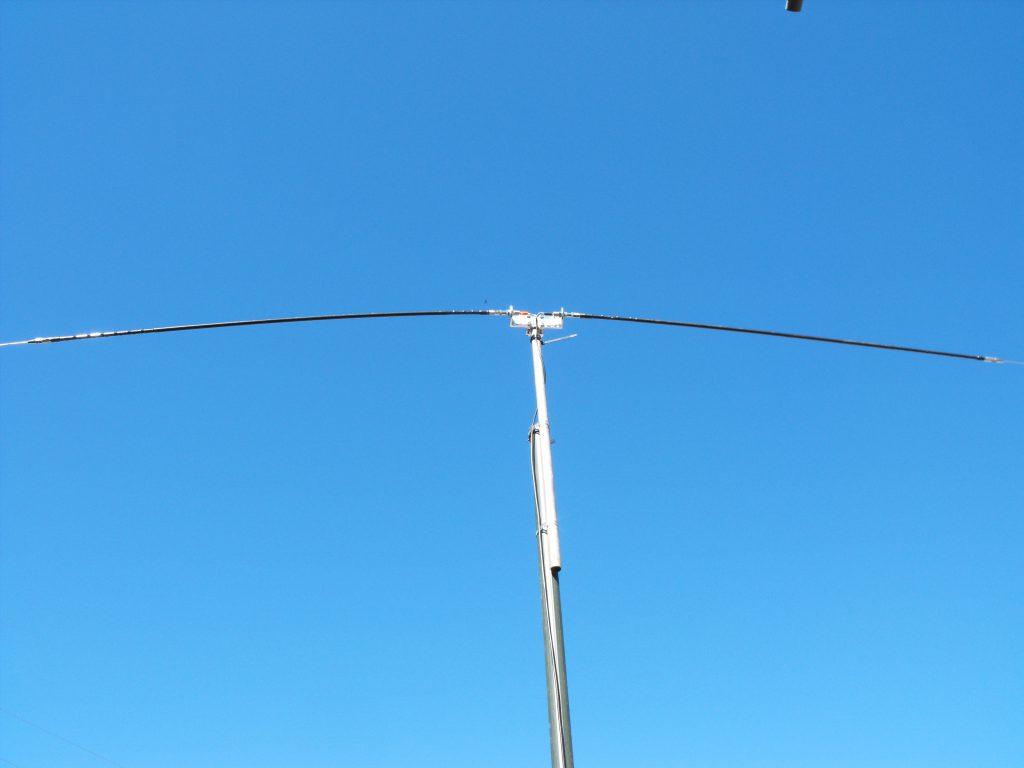 This setup turned out to work exceptionally well as I was able to hear almost all of the net on the Oregon Emergency Net.  I also checked into the Noonday net and my signal was comparable to my home setup in the Willamette Valley.  I was operating from east of the Cascades on a hunting and camping trip.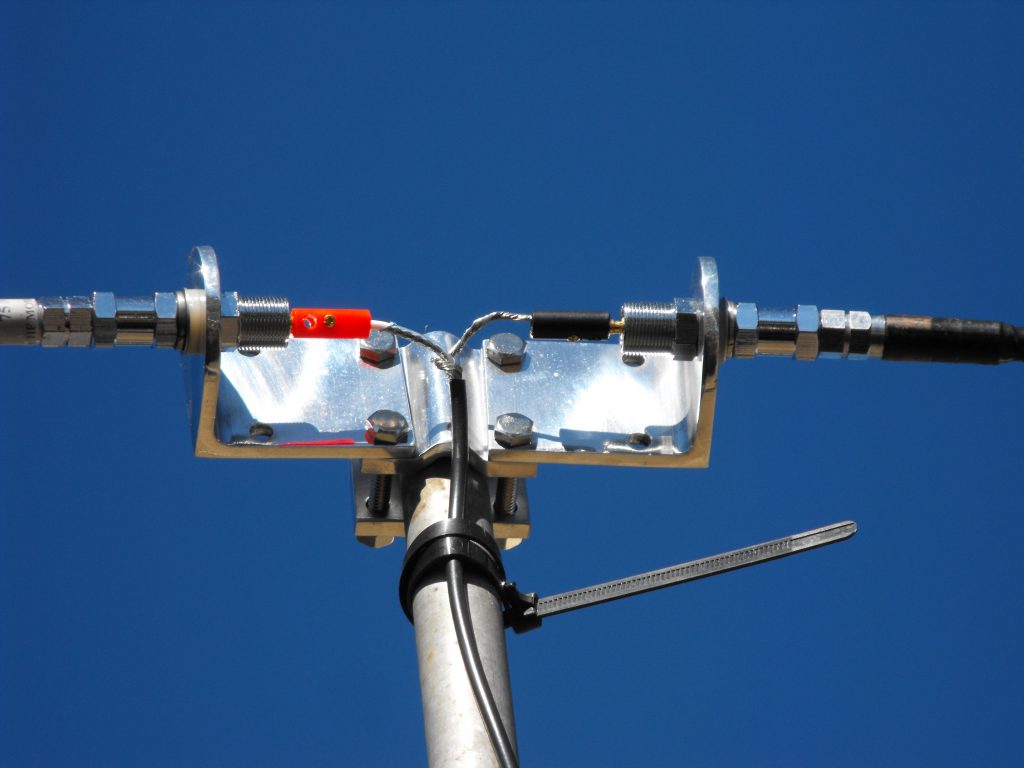 This antenna would also erect as a verticle dipole by using a half hitch on your rope and putting the lift point at the mount.  Of course one would want to remove the pole.  This is considered a loaded dipole antenna and as such is much shorter than a full length 75meter dipole antenna.  Regardless it is working very well and does have a broad directionality to it when rotated.  I will leave it to others to run an analysis of the antenna.
Other Ideas
This mount would also work with any of the Ham Sticks from MFJ or any other manufacturer.  The tuning turned out to be much easier than originally thought,  Their are many pole systems out there and any would work with this setup.  Also two sets of these military poles would put up this antenna and a wire dipole strung between them.  Another thought is four sets and a full size quad could be erected for field day in fairly short time, just a thought!  One last thought though is that this pole is strong enough to mount the dipole as well as string several sloping wire dipoles from the top, these also could be the guys for the pole as well.  Field Day is only a little over 8 months away so get started and let me know what you are building, or putting up?